I've finished my quilt for the
Tula Pink Sew Along
at Sew Sweetness, yay!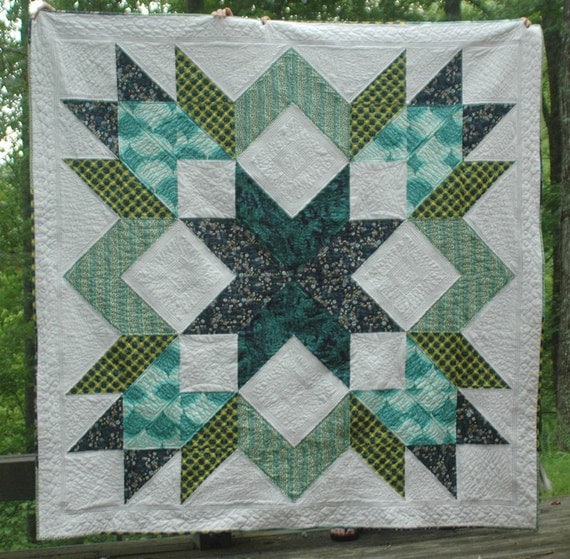 May Chapell's Tula Pink Designer Star Quilt
I was lucky enough to win
May Chapell
's Designer Star Quilt Pattern from her blog a few months ago. Actually she gave away a copy of her delicious pattern AND some Amy Butler fabric to make it with. You think I might've used that fabric for the Long Weekender sew along if not this quilt, but no, I'm stubborn, and planning something else with it.
So, some teeny differences between my finished quilt and her pattern (besides the pretty quilting). For solids I used Moda Bella in Butter and Mustard (ooh that makes me want a turkey sandwich...) leftover from my Totally Groovy Quilt. Why not just go with one solid? Well because I didn't have enough of anything :D Due to that I also had narrower borders around the quilt, and used my leftover Mustard to bind it.
All the prints are from Tula Pink's Parisville & Birds and the Bees collections. My color layout didn't turn out how I imagined, the Cinnamon Meteor Shower is so much darker than the other prints, and although it's my favorite print in this, obviously I should've tried to match the borders.
Does it look weird? I lost perspective, so I'm just assuming I love it. I practiced different quilting patterns for just about every print, from basic stippling to straight lines to swirls. I didn't open up Angela Walter's FMQ book until I finished with it, which is good because otherwise I would've gotten all serious about it and spent a few more days working on the quilting part!
For the back I went with another vintage-y sheet in matchy colors. I think I will stick with that for most quilt backs, although I have some ideas for some fancier stuff, I have to admit the convenience of a non pieced back has its draws.
I guess now it's off to work on the
Weekender Travel Bag sew along
! Going to try to get it done in time for the Tula Pink deadline on the 12th. Hopefully not finishing last minute since the 12th is my 8th wedding anniversary, and as wonderful as my husband is, I imagine even HE has his limits of tolerance ;)